Process versus Product – An art project where the experience matters more than the final product
At our school, we promote and value process over product. When the children are engaged with the process, they stay focused for an extensive period of time and develop a healthy work ethic. Rather than rushing through their work to get to the final product, they invest time, care, and effort into what they are doing, thus allowing real learning to happen.
At M.O.M., we strive to set up art projects whose primary goal is to invite the children to look closely at an artwork, interact with it, and finally apply these experiences to create their own piece of art.
Autumn, one of the four whimsical paintings of his Four Seasons series by Giuseppe Arcimboldo, lends itself into such art experience.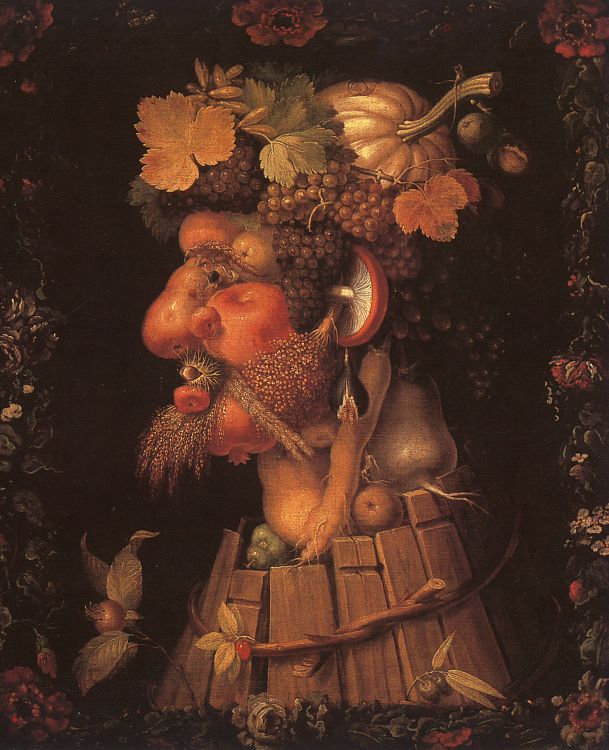 Arcimboldo, Giuseppe ~ Autumn, 1573, oil on canvas, Musée du Louvre, Paris.jpg, Wikipedia
To start with, the teacher introduces the painting to the children and tells them a few autobiographical details about the artist, Giuseppe Arcimboldo. Next, the children are invited to share their observations of the painting with the class. As they look closely, they soon discover that the features of the person in the painting are made up of fruits and vegetables. The teacher invites the children to identify the objects that make up the painting. While the children are sharing their observations, the teacher expands on the technical details of the art work, including vocabulary such as "portrait", "composition", "background", "foreground", "brush strokes", etc.
This part of the lesson is called "art viewing" and its main objective is to entice the children into looking closely at an art work, noticing the details, and making connections between the art work and their own lives. In our case, as the children call out the names of the fruits and vegetables spotted in the painting, the teacher presents a basket of real fruits and vegetables that correspond to the ones in the Arcimboldo's Autumn.
At the next stage of the lesson, the children engage with the real objects while referencing Arcimboldo's Autumn displayed in front of them. This stage is called "art experiencing" which leads to the final stage, "art making", as the children create their own art work in an empty picture frame on the rug using real life fruits and vegetables.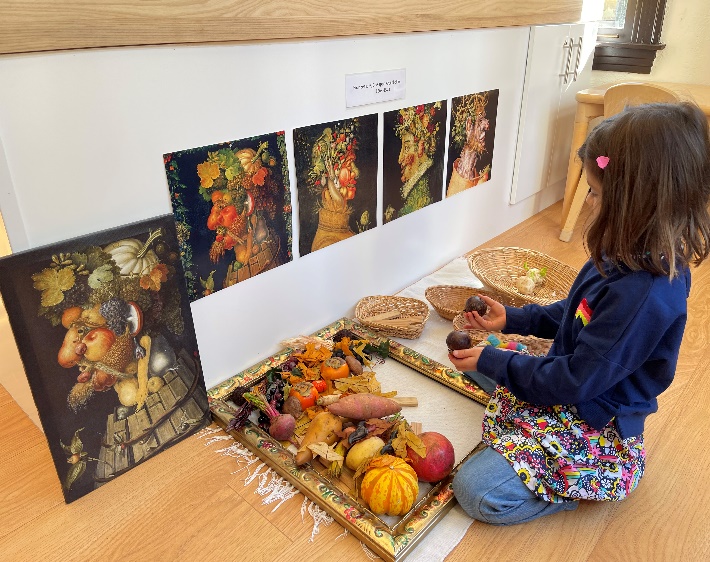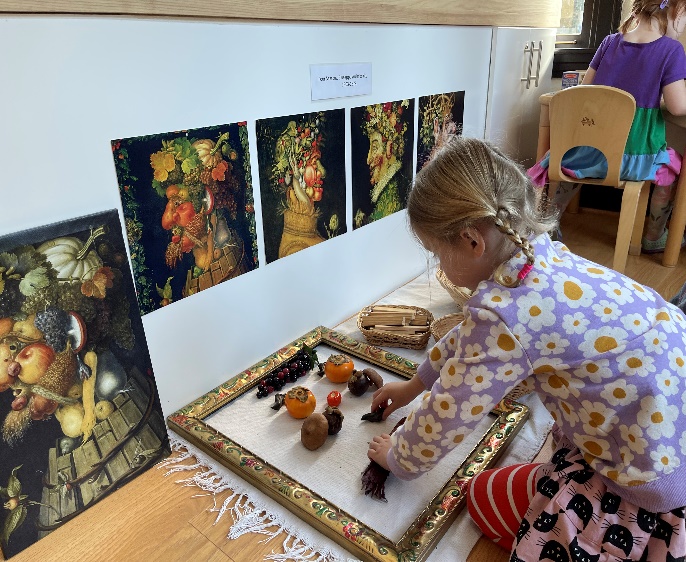 The beauty of it all is that once their picture is done, the children disassemble their masterpieces and replace the objects into the basket, ready to be used by the next person.
The emphasis is not on the final product – a piece of paper to take home – but on the process: the looking, the touching of the objects, the arranging of the objects in the picture frame, while constantly having a visual dialogue with the source of inspiration, Arcimboldo's Autumn.